2017/18 Schedule
Oct. 28th - Havre
Nov. 11th - Conrad
Nov. 18th - Browning
Thanksgiving Break
Dec. 2nd - Shelby
Dec. 9th - Cut Bank/Malta
Dec. 16th - C-J-I/ North Star?
Christmas Break
Jan. 6th - Chinook
Jan. 13th - Simms/ PDB- Simms School hosting?
Jan. 20th - Divisional - Chiteau
Jan. 26-27 - B-C State - Huntley Project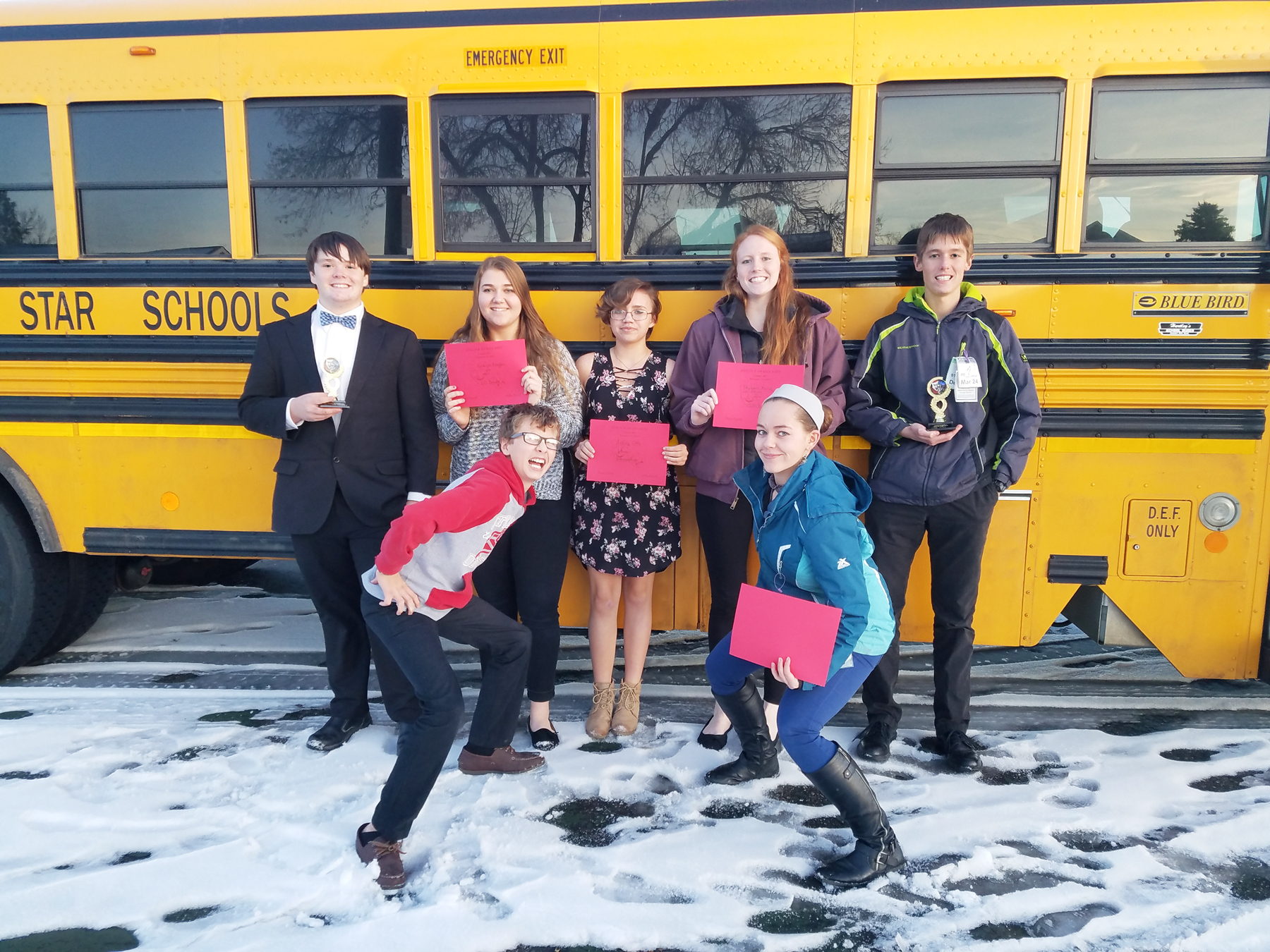 Speech and Drama team @ Conrad photo taken by team coach Ms. Lett
Student Grade
12
12
10
10
10
10
09
09
09
09
Student/ Event
Peytan King - SPOI
Jewel Wicks - Dramatic Solo/ DOI
Hayden Massar - HOI
Daniel Nerat - Imprompt Speeking
Karalyn Reagan - Lincon- Douglas Debate
Aubrey Welch - SPOI
Jorden Munyan - Original Oratory
Ashley Otto - Informative Speeking
Garret Pedersen - Hum. Solo/ HOI
Kenidee Wolery - Imprompt Speeking
Results 2017/2018
The North Star Speech team traveled to Chester for the CJI/North Star Holiday Classic. The speech team took 3rd in Sweeps overall and had three members place in the top 8 of their events.  They were:  Jewel Wicks with a 1st place finish in SPOI, Aubrey Welch who placed 3rd in SPOI, and Daniel Nerat who took 4th place in Impromptu Speaking.  Also participating were Garret Pedersen in HOI and Ashley Otto in Informative.